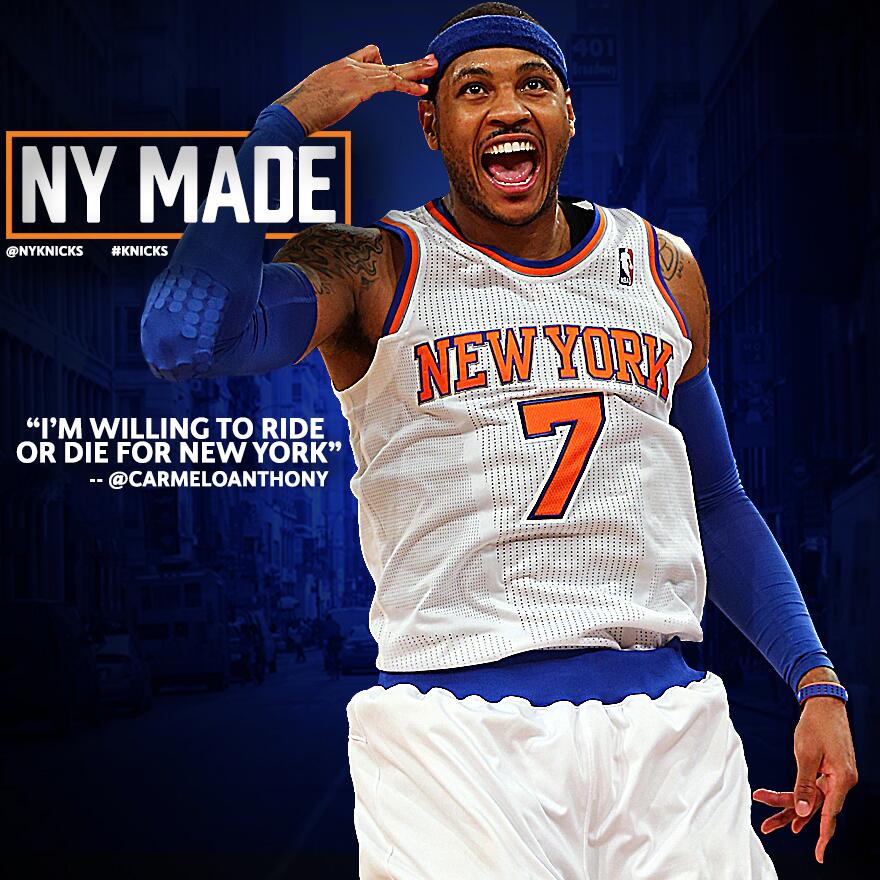 [Photo:New York Knicks]
Today Carmelo Anthony officially announced on his website he will be staying with the New York Knicks. The letter he wrote is:
"A few years ago I dreamed of coming back to New York City, the place of my birth, and on February 23, 2011 that became a reality. This organization has supported me and in return, I want to stay and build here with this city and my team. At this pivotal juncture in my career, I owed it to myself and my family to explore all of the options available to me. Through it all, my heart never wavered.

During this journey I met with some quality organizations who have amazing talent and leadership. I thank them for their consideration, belief in my talent, and opportunity to imagine the possibilities.

I will always remember this chapter in my life. In the end, I am a New York Knick at heart. I am looking forward to continue my career in Orange & Blue and to work with Phil Jackson, a champion who builds championship teams. Madison Square Garden is the mecca of basketball and I am surrounded by the greatest fans in the world."
He signed the max contract 5-years 120 million, I believe only time will tell if this was a smart signing for Melo I don't know what Phil Jackson has in store for the Knicks but at least Phil now can breathe easily knowing Melo is returning for the next 5-years. Being able to build around a superstar like Melo is something that won't be easy but can be done with the right pieces, Hopefully Phil Jackson can continue to unload these bad contracts such as Amar'e Stoudemire, and J.R. Smith. Phil was able to trade-off Tyson Chandler and Raymond Felton to get some pretty good quality players in return.